My name is Kelly Creely and I am a REALTOR® - Associate Broker with the Crawford Realty Group. I am a real estate agent that caters to both prime residential and commercial real estate properties that are located along the Mississippi Gulf Coast. I hope you enjoy the information on the Mississippi Gulf Coast that I am sharing with you. At the bottom of this page is a list of important resources that are useful to both Mississippi coastal residents and visitors alike. Please bookmark and add this page to your favorites and visit this page often.
Why Purchase Real Estate On The Mississippi Gulf Coast?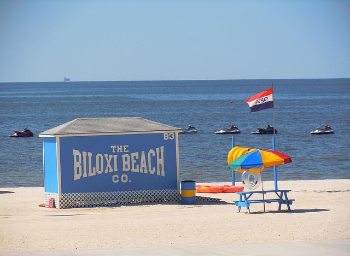 The Mississippi Coast provides its residents and visitors with an astonishing variety of culture, cuisine, and consideration. Its abundance of Southern charm and its deliberate pace compliment an immense variety of opportunities for visitors and locals to enjoy the history and joy of living in paradise.
Mississippi Gulf Coast Communities
Each of the three Mississippi Gulf Coast counties has their own laws which govern the beautiful sugar white sand beaches and protective seawalls. These three counties are Hancock, Harrison, and Jackson. Another county which is directly above Harrison County is Stone County. Stone County has seen significant population growth after the devastation caused by Hurricane Katrina in late August of 2005.
Much of Stone County is situated 160 to 300 feet above sea level. And, most of Stone County is only a 15-40 minute drive to almost any coastal destination in either Hancock, Harrison, or Jackson County.
The most prominent communities in these four counties are as follows:
Hancock County
There is a common thread that links these four communities together which is U.S. Highway 90 and Interstate 10. The Mississippi Gulf coast is quite different than the northern part of the State of Mississippi located above the 31st parallel.
Even though the counties and communities rival each other, all major transportation and communications links flow east and west. In fact, these counties and communities typically have more in common with the neighboring States of Louisiana and Alabama. New Orleans, Louisiana and Mobile, Alabama have a very similar cultural heritage to the Mississippi Gulf Coast compared to the northern Mississippi counties.
The Mississippi Gulf Coast Economy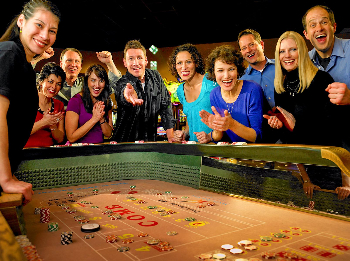 In the 21st Century, the tourism industry has been the leading industry along the entire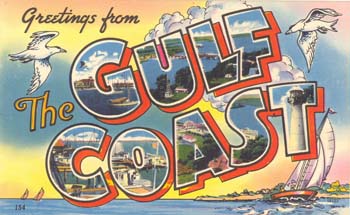 Mississippi Gulf Coast. Since their inception in the early 1990, the main attraction for tourism has been slots, dice, cards, and the stage shows provided by the Mississippi Gulf Coasts eleven gaming houses which operate seven days a week, 24 hours a day, and 365 days a year. All eleven casinos rank among the Mississippi Coasts 20 largest private –sector employers. Combined, these casinos employ more than 11,000 people.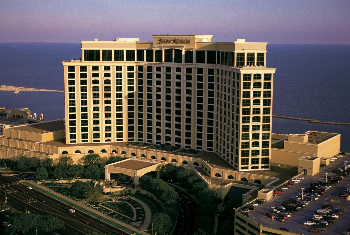 The Beau Rivage casino in Biloxi is the largest and tallest building in the State of Mississippi and is Biloxi's largest employer with more than 3,800 employees.
Biloxi-Gulfport is the nation's third-largest casino market, behind Las Vegas and Atlantic City.
Well over eight million visitors a year visit the Mississippi Gulf Coast and the Casino Gaming industry is the primary draw.
Mississippi Gulf Coast Quality of Life
Enjoy beautiful views of the Gulf of Mexico, great food, and a laid back atmosphere that welcomes bathing suits and flip-flops. The choices are plenty for any type of visit you would like such as a family vacation, a romantic getaway, a retreat, business trip, or a weekend getaway. The possibilities are endless.
The Mississippi Gulf Coast, an area steeped in history and beauty, abounds in appealing places and activities to explore. There are abundant lively musical and artistic events. There are tours of historical buildings and museums. And, there are nautical outings which include fishing charters, boating, and family water recreation. To help first-time visitors select from the myriad bounty of enjoyment, a simple drive down Highway 90, also called Beach Boulevard is wonderful entertainment.
Of the State of Mississippi one hundred-mile southern border, Highway 90 hugs nearly thirty gorgeous miles of beach coast. From sweeping views over the Biloxi Bay Bridge to the East, to the Bay St. Louis Bridge on the West, visitors will travel past clear gulf waters mirroring the current mood of the skies bordered by glistening white beaches and gracefully swaying sea grass. The journey provides idyllic scenes of boating, historic houses, and centuries old live oaks framing the road like lacy curtains. From Ocean Springs to the East, and then to Beauvoir, Jefferson Davis antebellum home in Biloxi, on westward toward the cities of Pass Christian and Bay St. Louis, visitors will be transported to another era. You will be awed by the beauty and resilience of magnificent trees surrounding the elegant Southern architecture of coast homes.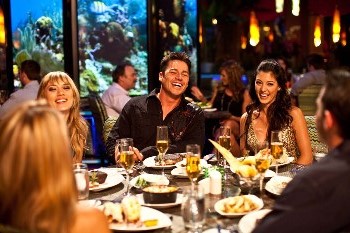 Restaurants abound near the beach offering simple and refined waterfront dining at its best.
Forty-foot schooners make Gulf excursions around the shore and day trips to nearby islands. Shrimp board captains give educational talks during tours, highlighting the catch of the day. Boat trips to the nearby barrier islands which are part of the Gulf National Seashore Islands provide day long enjoyment. In 14702, one of the barrier islands was named Ship Island. It remains home of Fort Massachusetts which is a fascinating Civil War era fortification with seasonal guided tours by park rangers.
The clear waters surrounding the islands are a special treat. Beach rentals are also available for a leisurely day of sunning or swimming, as dolphins play nearby.
The chain of barrier islands reduces waves, making the gentle waters on the coast beach pleasant for children to build sand castles and explore for beach treasures.
Special activities vary from month along the Mississippi Gulf Coast. Because French King, Louis XIV established a colony on the Mississippi Gulf Coast in 1699, the influence of France on the architecture as well as one favorite holiday in particular is still apparent to this day. Not long after the Christmas decorations are packed away, plans immediately shift to Mardi Gras!. Beginning in late January, over twenty-five family friendly Mardi Gras parades are scheduled which feature many different themes. In Southern Mississippi, Mardi Gras Tuesday is a Holiday where schools, businesses, and many governmental agencies are closed.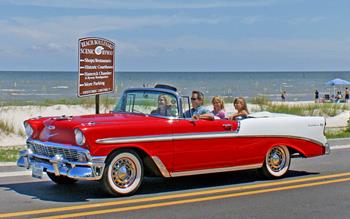 A family favorite event that is particular popular is Crusin The Coast. This event bills itself as Americas Largest Block Party.
Over a seven day period that is scheduled in early October of every year, automobile enthusiasts from 41 States plus Canada and Sweden travel to the Mississippi Coast to showcase their vehicles and cruise the magnificent 30 mile stretch of beach side highway. There are designated stops in Bay St. Louis, Biloxi, D'Iberville, Gulfport, Pass Christian and Ocean Springs. Each venue features a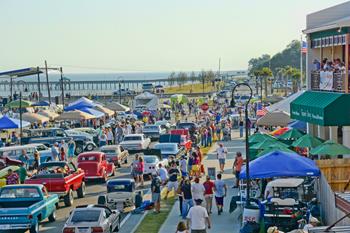 mini festival in its own right. There are stages for live music, reserved parking spaces for registered cruiser participants, parking for spectators, and vendors for food and event merchandise. In 2014, this event featured 7,293 registered vehicles. Crusin The Coast is now the largest special event in the State of Mississippi.
The Mississippi Gulf Coast is a top-notch vacation destination offering non-stop gaming action, world-class golf courses, sailing and deep-sea fishing adventures, as well as eco-tourism on our gorgeous backroads and bayous. You will also find an array of shopping choices from large shopping malls and outlets to quaint and one-of-a-kind boutiques dotted all along our Mississippi Gulf Coast. We also offer fine museums, and of course there is the most amazing cuisine you have ever experienced.
Whether you are planning to relocate with your family or are looking for a quiet beach retreat, let me help you with your real estate investment on the Mississippi Gulf Coast, and guide you through the time consuming process of looking for that special property.

Important Resources Associated With The Mississippi Gulf Coast
Gulfport-Gulfport International Airport
What To Do and See On the Mississippi Gulf Coast West of Gulfport, MS
Dog Friendly Attractions Near Gulfport, MS
Pet Friendly Mississippi Gulf Coast Beaches
Mississippi Coastal Heritage Trail
Buccaneer Mississippi State Park
Gulf Coast Scenic Byways
Mississippi State Tourism Office Website
Sun Herald Newspaper
Mississippi Coast Coliseum & Convention Center
Mississippi Gulf Coast Attractions Association
Mississippi Gulf Coast Calendar of Events Suitable For Children
Gulf Coast Mississippi Retiree Partnership
Mississippi Gulf Coast News
Mississippi Gulf Coast Information Guide
See South Mississippi Magazine
Gulf Coast For Kids Foundation
Mississippi Gulf Coast Local News
Mississippi Gulf Coast Travel Guide
Infinity Science Center
YouTube Video Guide To Real Estate On The Mississippi Gulf Coast
Utility Companies
Cable One
AT&T – Telephone, Internet and Television
Mississippi Power
Coast Electric Power Association
Center Point Energy – Natural Gas
Gulfport Water Department
Casino Gaming
Island View Casino – Gulfport
Beau Rivage Resort & Casino - Biloxi
Boom Town - Biloxi
Golden Nugget Gulfport - Biloxi
Hard Rock Hotel and Casino - Biloxi
Harrah's Gulf Coast - Biloxi
IP Casino Resort Spa - Biloxi
Palace Casino Resort - Biloxi
Treasure Bay – Biloxi
Silver Slipper Casino – Bay St. Louis
Hollywood Casino – Bay St. Louis
Mississippi Casinos
List of 11 Mississippi Gulf Coast Casinos
List of Casinos in Mississippi
History of Gambling In Mississippi
Golf
Mississippi Gulf Coast Golf Association

Crusin' The Coast

Entertainment
100 Man Hall in Gulfport on the Mississippi Blues Trail
Mississippi Gulf Coast Event Calendar
Mississippi Gulf Coast Family Fun Event Calendar
Restaurants
Mississippi Seafood Trail – Mississippi Gulf Coasts 40 Best Seafood Restaurants
Mississippi Gulf Coast Restaurant Guide
Mississippi Online Guide To Coastal Dining
State of Mississippi Guide to 756 Restaurants and Bars