My name is Kelly Creely and I am a REALTOR® - Associate Broker with the Crawford Realty Group. I am a real estate agent that caters to both prime residential and commercial real estate properties that are located in Diamondhead, MS. I hope you enjoy the information on Diamondhead, MS that I am sharing with you. At the bottom of this page is a list of important resources that are useful to both Diamondhead, MS residents and visitors alike. Please bookmark and add this page to your favorites and visit this page often.
Why Purchase Real Estate In Diamondhead, Mississippi?
Diamondhead, MS History
Diamondhead, Mississippi is a community located in Hancock County and was named after Diamond Head, Hawaii. This Hawaiian influence is applied throughou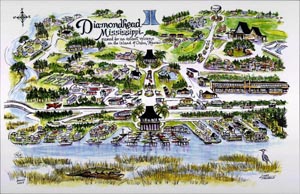 t Diamondhead. Most of the roads are named with Hawaiian names, the various community centers and private homes have a Hawaiian appearance which includes prominent Kona/Tahitian roof lines. Originally Diamondhead was designed by the developers in 1970 to appeal to an older demographic looking for a place to retire near New Orleans, Gulfport and Biloxi. In fact, Diamondhead is a leisurely one hour drive West on I-10 to downtown New Orleans. Since 1970, Diamondhead has changed from a retirement community to a community that provides for the needs of a variety of age groups. Many of its residents now consist of young families. According to the United States 2010 census, the population of Diamondhead is 8,425.

In 1956 the U.S. Federal Highway Act was passed into law and the Interstate Highway System began to be developed. The completion of I-10 which runs parallel to the Mississippi Gulf Coast made Hancock County rapidly accessible to travelers from an area as far West as Texas and as far East as the Florida Panhandle.
The construction of the Stennis Space Center by the United States Government commenced in Hancock County in the 1960's. The Stennis Space Center employed many thousands of U.S. Government workers as well as private contractors. This influx of well paid employees needed land and a place to live.

The completion of I-10 through Hancock County as well as the construction of the Stennis Space Center drew the interest of the Diamondhead Property Development Corporation. The Diamondhead Property Corp. maintained substantial property developments in a number of different States. The Diamondhead Corporation setup developmental operations on the Mississippi Coast in the late 1960's. In August 1969, this company purchased six thousand acres directly west of Kiln, MS along the Northern boundary of Interstate 10 in Hancock County.

In that immediate time frame, Hurricane Camille slammed into the Mississippi Gulf Coast and put the project in jeopardy. One of the primary shareholders in the Diamondhead Corporation flew over the property shortly after this very powerful storm had passed. After viewing that such a powerful and highly destructive hurricane did so little damage, the development moved forward very quickly. By June, 1973, no less than 3700 hundred building lots for residential construction were sold.
The median family income in Diamondhead is $58,533 which places it in the top 20% of household income in Hancock County.
Unlike most of the Mississippi Gulf Coast, which is mostly level, the Diamondhead area has a rolling topography. The community is very well maintained, and is extremely clean with virtually no litter and there is essentially no crime whatsoever.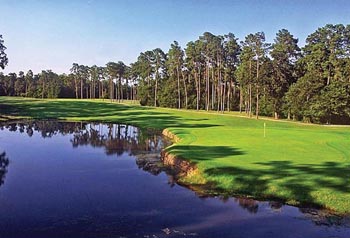 Because Diamondhead was a planned community, it has many facilities designed to attract home buyers. Some of the facilities include a Marine, Yacht Club, Tennis World, and Country Club with multiple dining facilities. There are two professional 18-hole golf courses. There are several community swimming pools, community grocery stores, shopping centers, and hardware stores, numerous restaurants, hotels, auto service stations and even a bowling alley. There are multiple ponds and lakes and a number of homes have direct access to the Gulf of Mexico by way of the Diamondhead Marina.
There is also a private Airstrip which provides hanger space or tie down facilities. The Airstrip in

cludes direct access between the Airstrip and private homes which allows aircraft to be housed at a home owner's house.
Diamondhead is less than a 10 mile drive south to the white sand beaches and Antebellum homes in Pass Christian.

Let me help you with your real estate investment in Diamondhead, and guide you through the time consuming process of looking for that special property.

Important Resources Associated With Diamondhead, Mississippi

Diamondhead MS City Government
City Data Concerning Diamondhead, MS
Diamondhead, MS Police Department
Hancock County Sheriffs Department
Diamondhead, MS Fire Department
Hancock Medical Center
Diamondhead Marina
Diamondhead School District
Hancock County Historical Society
Hancock County Tourism Development Bureau
Current U.S. Census Bureau Data on Diamondhead, MS
Wikipedia info on Diamondhead, MS
Diamondhead Public Library
Hancock County Chamber of Commerce
Hancock County My Home Website – Relocation Guide
Hancock County Government Online
Diamondhead, MS Yellow Pages
Hancock Country Scenic Byways
Bay St. Louis MS Sea Coast Echo Newspaper
What To Do and See On the Mississippi Gulf Coast West of Diamondhead, MS
Dog Friendly Attractions Near Diamondhead, MS
Pet Friendly Mississippi Gulf Coast Beaches
Mississippi Coastal Heritage Trail
Buccaneer Mississippi State Park
Gulf Coast Scenic Byways
Mississippi State Tourism Office Website
Sun Herald Newspaper
Mississippi Coast Coliseum & Convention Center
Mississippi Gulf Coast Attractions Association
Mississippi Gulf Coast Calendar of Events Suitable For Children
Gulf Coast Mississippi Retiree Partnership
Mississippi Gulf Coast News
Mississippi Gulf Coast Information Guide
See South Mississippi Magazine
Gulf Coast For Kids Foundation
Mississippi Gulf Coast Local News
Mississippi Gulf Coast Travel Guide
Infinity Science Center
YouTube Video Guide To Real Estate On The Mississippi Gulf Coast
Utility Companies

Cable One
AT&T – Telephone, Internet and Television
Coast Electric Power Association – Electricity Provider for Diamondhead, MS
Hancock County Water & Sewer District
Casino Gaming
Silver Slipper Casino – Bay St. Louis
Hollywood Casino – Bay St. Louis
Mississippi Casinos
List of 11 Mississippi Gulf Coast Casinos
List of Casinos in Mississippi
History of Gambling In Mississippi
Golf

Mississippi Gulf Coast Golf Association
Entertainment

100 Man Hall in Diamondhead on the Mississippi Blues Trail
Mississippi Gulf Coast Event Calendar
Mississippi Gulf Coast Family Fun Event Calendar
Restaurants
Mississippi Seafood Trail – Mississippi Gulf Coasts 40 Best Seafood Restaurants
Mississippi Gulf Coast Restaurant Guide
Mississippi Online Guide To Coastal Dining
State of Mississippi Guide to 756 Restaurants and Bars